After preparing the furniture we begin disassembling of all parts of furniture, which is due to the incompatibility of their size with capacity of transport vehicle can not be transported in the same condition as they are used. When assembling furniture at the new address overview and repair of all damaged items is done, which are damages consequences of the use of things for many years.
We do the disassembly and assembly of all moving things, which include: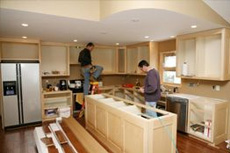 Kitchen (sink, aspirator, suspended and bottom elements of the kitchen, …),
Cupboards, wall systems, American closets,
Shelves of all sizes and types,
All types of beds (bunk beds, double bed, corner sets, two-seaters, three-seaters, sofa and armchairs),
Tables,
Office Furniture.