Efficient and professional team trained in packing, disassembling, assembling, loading and unloading will prepare your belongings for moving to the highest possible standard, so that they could arrive at the agreed destination in the identical state as before packaging. If any damage is detected in moving items before packing and disassembling, our team will remove the same and fix them so far as conditions permit.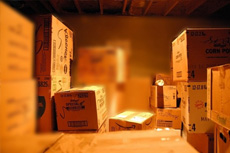 Moving things are packed to different types of wrapping paper, vacuum foils, film with airy pads, protective shields and special sponges. For packing fragile items in ceramics, glass and porcelain are used boxes with 5-layered cardboard box and inside is filled with a sponge in the shape of flakes that further protects things. Boxes are filled to the brim, except in the case of transportation of sensitive and fragile objects. On each box there is a certain color label with information about the content inside the box. Different colored labels provide that in your new space furniture and boxes are easily and quickly placed in a proper room in accordance with the list and the client's wishes.
If you do packing in boxes by your own and make your own furniture protection, we are able to provide you with boxes and all packing material before the move, which we will forward on your request deliver to your address and with pre-marked content in the box (for example, books, porcelain, clothes, glasses, …). Our boxes are well designed and we have them in various sizes.
The basic types of packing material things are divided into the following groups:
Boxes

The wardrobe box dimensions 500 mm x 500 mm x 1600 mm,
The glass box with compartments dimensions 500 mm x 500 mm x 800 mm,
The plates box dimensions 400 mm x 550 mm x 550 mm,
The standard box for moving dimensions 400 mm x 400mm x 600mm,
The big box for moving 600 dimensions mm x 600mm x 600mm,
Pet Carrier: boxes for moving small pets of different sizes,
Boxes for images of different sizes.

Foil

the PVC film – stretch film,
Bubble Wrap (S),
Bubble Wrap (L).

Sponges

Standard sponges of different sizes,
Ground sponge foam or flakes,
Special sponge thickness in rolls of 2 -12 mm and the width to 1200 mm.

Wrapping paper and polyethylene funds

Paper for packing,
Covers for bed mattresses,
Covers for sofas.

Bags

Bags for packing stuff up to 120 l volume,
Vacuum bags for storage of seasonal items.
Boxes
Wardrobe Boxes (size 500 mm x 500 mm x 1600mm): Suitable for packing clothes, sheets, capacity up to 32 hangers with clothes. Half size of standard single wardrobe in content and capacity, but higher functionality.
Box for glasses and cups (size 500 mm x 500 mm x 800mm): Suitable for packing glasses of all types and sizes because double-walled boxes protect glasses from external influences, honeycombed walls physically separate one cup from another. The capacity is 100 cups (four rows of comb with up to 25 glasses / cups).
Box for plates (size 550 mm x 550 mm x 400mm): Suitable for packing all kinds of dishes, plates are sorted vertically so that the capacity of boxes is up to 20 plates. Between each plate is amortizing cardboard that sticks to the plate and protect from breakage.
Standard moving box (size 600 mm x 400 mm x 400mm): Suitable for packing and storage of all items of general purpose.
Moving large box (size 600 mm x 600 mm x 600 mm): Suitable for large home appliances, electrical appliances, toys, textiles, clothing, shoes, bed -clothes and so on.
Box of various sizes for smaller pets: Suitable for all small pets (rabbits, cats, small dogs, etc.).
Box for images of various sizes: Suitable for moving images of all sizes.
Films
PVC film – stretch film: its extensibility and clinging to the things, especially if they have an irregular shape protects the moving things from dust, moisture, water, and any external influence during transport or storage. It is suitable for transport over longer distances because it keeps the tension, even on slippery thing.
Bubble Wrap (S): The film with air bags allows you to protect nearly all the smaller things you move, because bubbles amortize any shocks during transport and physically separate moving thing from boxes. Bubbles usually have size 20 mm x 7 mm. It is ideal for the protection of frames, mirrors, pictures.
Bubble Wrap (L): This product type is a type of micron thermoplastic material made of polymers (polyethylene). Flexibility helps the bubbles to adapt to the shape of your product, and the film with bigger bubbles is suitable for protection of furniture, larger things and filling voids in boxes. The advantage of this film in relation to the smaller bubble wrap is that can be cut and adapted for packing smaller things.
Sponges
Standard sponges: Strong non-abrasive polyethene closed cell foam is ideal for protection of sensitive things and for preventing scratching of polished surfaces . It is the best for separating dishes and other fragile things in transit or storage.
Sponges in rolls of special thickness of 2 -12 mm to 1200 mm width: Suitable for wrapping large pieces of furniture.
Ground sponge – flakes – beads: It is recommended to fill voids in boxes. Flakes are of paramount importance especially in the case of international migrations and transport easily breakable moving things in remote locations.
Special sponges are used to protect furniture parts (angles): Can be cut according to measure and mostly serve to protect the corners of moving things during transport from breaking and fraying. They are used to protect furniture picture frames, dining table corners and other tables. They are also suitable for protection during storage of the same things .
Wrapping paper and polyethylene funds
Wrapping Paper: A thin white wrapping paper is suitable for the protection more sensitive things. It`s the most widely used for packing kitchen things.
Covers for bed mattresses: Due to its size and shape, mattresses are often dirty or damaged during moving, while contributing to mattress covers can keep a good look and after moving. They are ideal for moving, storing or rearrangement because they protect against water and dust.
Covers for sofas: Polyethylene covers for sofas are used to protect your belongings during the moving or storage. They can be used multiple times.
Bags
Bags for packing things volume to 120 l – sacks: They are suitable for packing light things, and also serve as a protection against water, moisture and dust.
Vacuum bags for storage of seasonal items: They are very practical, because they do not take up much space, and at the same things that are packed retain the same shape and does not wrinkle. Their functionality complements the fact that they serve as protection against water, moisture and dirt. You can use them multiple times.