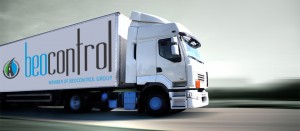 Beocontrol organizes the road transport cloak with experience and professionalism: transport of garments by truck, refrigerator and tanks both in Serbia and from all world destinations.
We have a large number of own vehicles for transport of goods of different dimensions. Each of our vehicles in addition to the standard equipment has the equipment for satellite tracking of vehicles, and we are always able to give you information about where the vehicle is.
Beocontrol offers, in addition to road freight transport services, professional unloading and loading of all types of goods, regardless of size.
State-of-the-art equipment, special vehicles (vans, tanks, tankers) and trained personnel guarantee that we can meet all the requirements of our customers, no matter what type of goods we transport and whether it is trucking in Serbia or international transportation.
Safe transportation, the safety of our vehicles at a high level, experienced staff, accuracy and providing full services and more benefits that our company provides are sufficient reasons for you to transport your goods in Serbia and abroad with us.
Any additional activities that accompany transportation, we can perform as soon as possible:
Preparation of the consignment note and other documents and performance of all actions related to customs clearance,
Storage of goods before or after transport,
Informing you – the customer or the person you specify about the time of arrival of shipments,
Additional insurance.