Beocontrol offers a transport service for all kinds of goods under controlled temperature regime from any part of Serbia or the world, and from the moment we receive the goods until we delivery it to the recipient. For freight transport we use modern vehicles capacity from 1t to 22t in road transport, or globally recognized and trusted subcontractors for other transport modes (maritime, aviation and rail). Beocontrol has the ability to transport all types of cargo in all temperature ranges: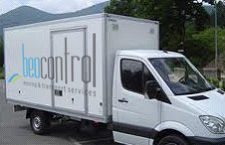 Deep-frozen items at -80ºC (dry ice)
Frozen items at -20ºC
Chilled items at +2 to +10ºC
Controlled ambient shipment at +11 to +25ºC
Shipments on a 'body' temperature.
Beocontrol offers the ability to use appropriate packaging materials that conserve temperature – thermal boxes and containers, dry ice, various kinds of gel Pack ("penguin") for all temperature ranges, stationary and mobile refrigerators, freezers and heaters. Type and method of packaging is chosen for each individual shipment based on quantity of goods, the required storage temperature, duration of transport and anticipated outdoor temperature in the execution of transport.
Our professional and dedicated team is made of highly skilled personnel with years of experience in transportation. Our knowledge and experience allow us to increase the quality of the transport process and save time, resulting in the rationalization of expenses and more money for the client.
The Beocontrol's highest value are it's drivers. They are highly motivated and qualified with professional and business approach, who access work accurately and on time and respecting strict EU norms.
Our fleet consists of modern trucks with carrying capacity from 1t to 22t tractor/trailer. The vehicles have different structures specialized for the transport of all types of cargo under any temperature regime.
Our tonnage vehicles (trucks) are equipped with temperature measuring instruments and printers, and vehicles with less capacity have electronic data loggers. These devices record all the changes in the temperature from the time of shipment to the moment of delivery to the recipient, which prove the correctness of the temperature in the transit. Also, all vehicles are equipped with satellite tracking devices (GPS).
GPS device sends order for loading directly into the cabin, able monitoring cargo during transport, ie. online tracking of the current position of goods at any time during the transport process. By using these devices Beocontrol increases the safety and quality of transport, with emphasis on accuracy.
Professional team, quality drivers, modern fleet and the highest quality service are the key for our successes and are responsible for creating a recognizable brand, Beocontrol, which operates in the market for 12 years.