If the place of taking the goods is not a city where there is railway terminal, we provide the ability of multi-media transport (loading at an agreed address, transfer to railway station by other modes of transport, rail transport, unloading and delivery of your cargo / goods to railways).
Rail transportation can be made by simple, special and high sites in the open, and closed wagons. For car transport, a special plateau car is used.
Any additional activities that accompany rail transportation, we can perform as soon as possible: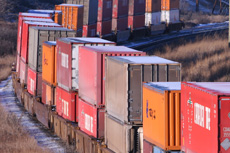 Preparation of the consignment note and other documents and performance of all actions related to customs clearance,
Storage of goods before or after transport by rail,
Informing you – the customer or the person you specify about the time of arrival of shipments,
Transport from rail by other mode of transportation and delivery to the address of the recipient's shipment.
Serbia and China have launched a freight rail service linking the two countries. The distance between Jinan and Belgrade is about 10,500 kilometres and the train will cover it for 25 days, passing through China, Kazakhstan, Russia, Ukraine, Slovakia and Hungary.
The launch of the rail freight line between China and Serbia creates opportunities for all businessmen from Serbia and the region, as they will be able to export their goods to the Chinese market and import the necessary goods from China, because transport is much more cost-effective than air or maritime transport.